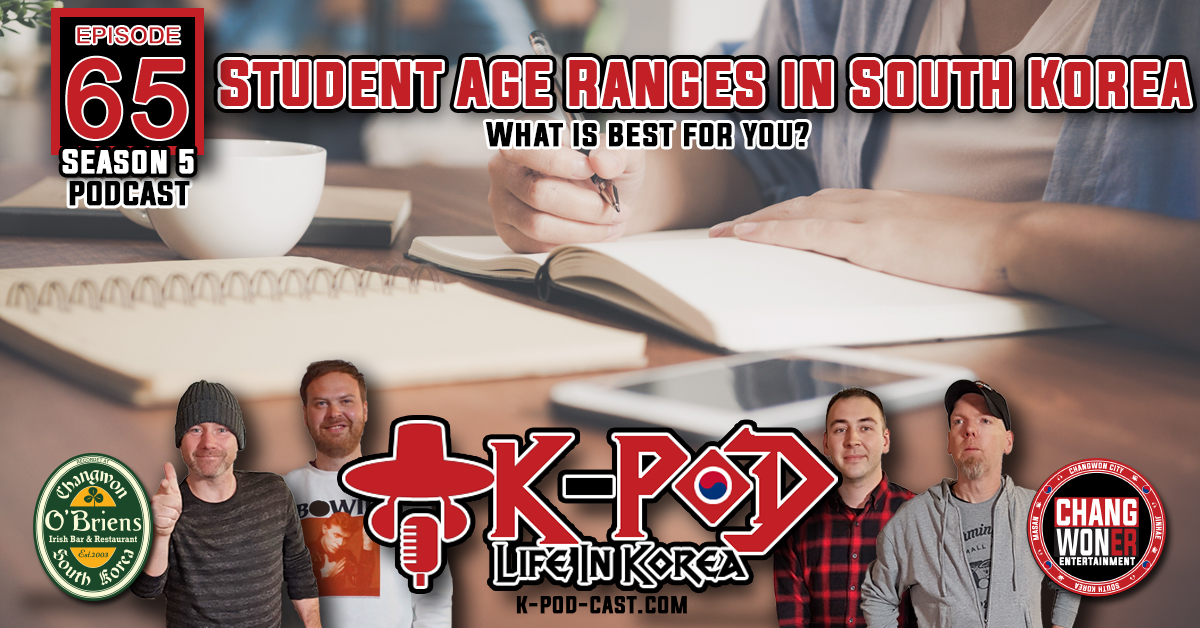 Student Age Ranges in South Korea (Ep 65)
K-PoD: Life In Korea
 Teaching different age ranges English in South Korea! What will work best for you?
There is a wide range of ages you can end up teaching English to working as an English teacher in South Korea. What age range will work best for you?  Scott, Marco, and Adam discuss teaching children to adults and which ages they prefer, which ages are the most difficult to teach, which ages learn the quickest, and which age range will be best for you.
It's a podcast of different student ages in South Korea for this episode of K-PoD!
Show Notes
01:43

Marco tells us the current age ranges that he teaches now.

01:55

Adam lets us know the age ranges he currently is teaching.

02:39

The current age ranges that Scott is teaching now.

02:50

Adam gives his views on what it is like teaching elementary school students and younger children English with the use of songs and games.

04:30

Marco gives his opinions on teaching younger kids English, more advanced English, and the frustrations that can come with it.

05:40

Scott gives his views from over the years of teaching kids English from kindergarten to middle school students.

07:10

Each of the hosts talk about their class sizes and the different between class sizes in a public school compared to private schools.

09:15

Each host gives their experiences with teaching adults in South Korea and how it's different from younger students.

14:28

Marco gives some advice on teaching kids and what he means with regards to being 'Scary Teacher'.

15:52

Adam talks about the age range that he prefers to teach and his thoughts on having a co-teacher with him in his classes.

17:11

Scott gives the age range he prefers to teach and how he covers up making mistakes as a teacher in class.

18:36

Adam gives some advice on how to improve grammar for adult students.

19:22

Scott sums up the differences of teaching different age ranges and what might work best for you.
K-PoD: Life In Korea Podcast
HOSTS

Scott

Scott is one of the original hosts of K-PoD (formally The Changwoner Podcast) and also the founder and producer of the show.  He is also the founder of Changwoner Entertainment.  He is from Newfoundland, Canada and has been living in Changwon, South Korea for almost 17 years.

Adam

Adam is one of the hosts of K-PoD.  He started as a host last season in 2018.  Adam is from Ontario, Canada and has lived in Changwon City, South Korea for 8 years.

Marco

Marco is now one of the new hosts of K-PoD.  Marco is from Columbus, OH, United States and has lived in Changwon City, South Korea for almost 3 years.

– https://goo.gl/ZCX9Qe
– https://goo.gl/w2G95c
– https://kpop.global

Paul

Paul is one of the original hosts and founders of K-PoD (The Changwoner).  Paul is originally from England and he currently continues to live in Changwon City where he has lived for the past 16 years.
Listen and Subscribe on….
| | | |
| --- | --- | --- |
| | | |
| | | |
| | | |
| | | |
If you would like to be a guest on K-PoD: Life In Korea, or have any questions for the show or regarding South Korea, or have something you'd like to promote, please contact us at
podcast@changwoner.com
#teachingenglish #englishteaching #southkorea #expatskorea #expats #students #koreanstudents #livinginkorea #korea #korealife #travel #changwon #podcast #podcastkorea #kpod #changwoner #lifeinkorea