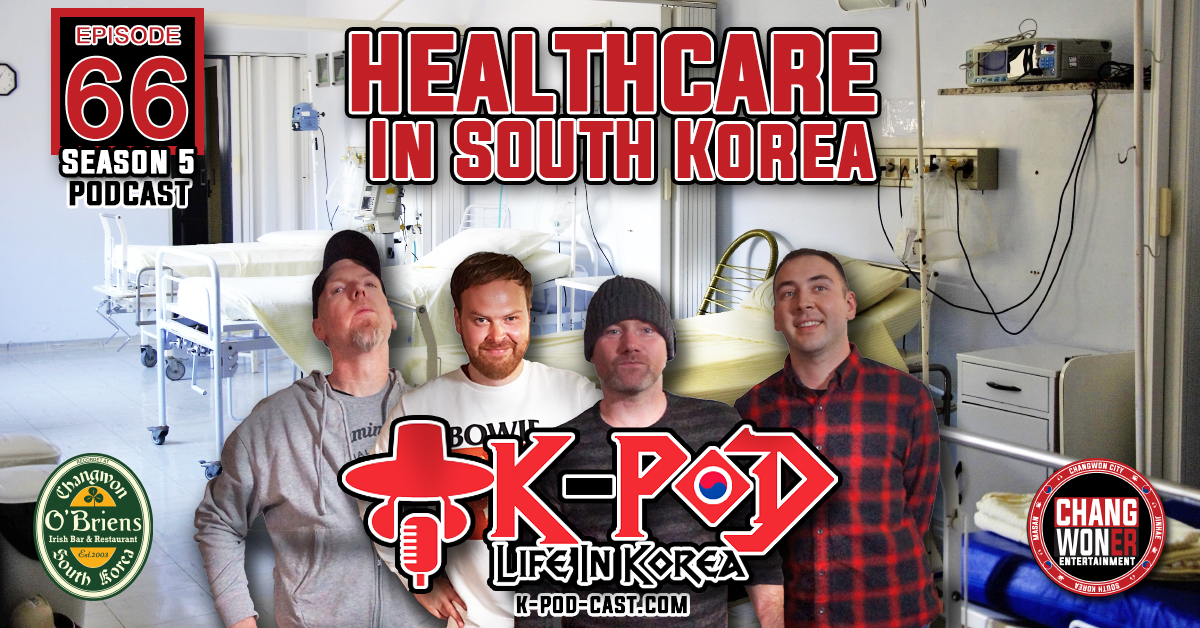 Healthcare in South Korea (Ep 66)
K-PoD: Life In Korea
What kind of healthcare will you get with your job if you're coming to work in South Korea?
South Korea has both National healthcare and private healthcare. Which are you most likely to get with a teaching job and which will work best for you?  Scott, Marco, and Adam talk about the different healthcare insurance each of them has, the coverage you get, the costs, and some of their very own experiences with trips to the doctor or hospitals in Korea!  It's all about healthcare in South Korea on this episode of K-PoD!
Show Notes
02:05

Adam tell use what coverage he has working in a public school in South Korea.

02:48

Marco isn't sure what healthcare coverage he has but explains what he knows he's covered by.

03:32

Scott talks about private healthcare, what he is covered by, the costs, and the differences with private healthcare and national healthcare.

04:25

The costs of visiting a doctor without healthcare insurance.

05:00

Adam talks about some of the times he has had to use his national healthcare insurance and Korean medicine.

05:45

The types of medication you get in South Korea and what you can expect with a visit to your local doctor.

06:12

Marco talks about his trips to the doctor and how he has needed his healthcare insurance.

07:15

Scott explains how medication is so cheap and why he didn't have healthcare for many years and why he doesn't really use it now.

09:00

The reasons you may want healthcare and why you will get sick as an English teacher in South Korea.

09:40

English speaking doctors and what to do for the language barriers when visiting a doctor or hospital.

11:45

Scott gives a story about one of the times he was misdiagnosed due to mistranslation.

12:35

Each of the hosts compares healthcare to their home countries of Canada and USA.

18:37

Some stories of what to watch out for when visiting a family doctor in South Korea, or at least from the past!

20:12

Adam gives a personal experience of a visit to the hospital that he had.

22:19

What you can expect with regards to your health checkup that you have to get when first coming to South Korea to get your working visa.

25:25

Scott sums up his thoughts on healthcare in South Korea.
K-PoD: Life In Korea Podcast
HOSTS

Scott

Scott is one of the original hosts of K-PoD (formally The Changwoner Podcast) and also the founder and producer of the show.  He is also the founder of Changwoner Entertainment.  He is from Newfoundland, Canada and has been living in Changwon, South Korea for almost 17 years.

Adam

Adam is one of the hosts of K-PoD.  He started as a host last season in 2018.  Adam is from Ontario, Canada and has lived in Changwon City, South Korea for 8 years.

Marco

Marco is now one of the new hosts of K-PoD.  Marco is from Columbus, OH, United States and has lived in Changwon City, South Korea for almost 3 years.

– https://goo.gl/ZCX9Qe
– https://goo.gl/w2G95c
– https://kpop.global

Paul

Paul is one of the original hosts and founders of K-PoD (The Changwoner).  Paul is originally from England and he currently continues to live in Changwon City where he has lived for the past 16 years.
Listen and Subscribe on….
| | | |
| --- | --- | --- |
| | | |
| | | |
| | | |
| | | |
If you would like to be a guest on K-PoD: Life In Korea, or have any questions for the show or regarding South Korea, or have something you'd like to promote, please contact us at
podcast@changwoner.com
#koreanhealthcare #healthcareinkorea #southkorea #koreandoctors #koreanhospitals #koreanmedicine #livinginkorea #korea #korealife #travel #changwon #podcast #podcastkorea #kpod #changwoner #lifeinkorea