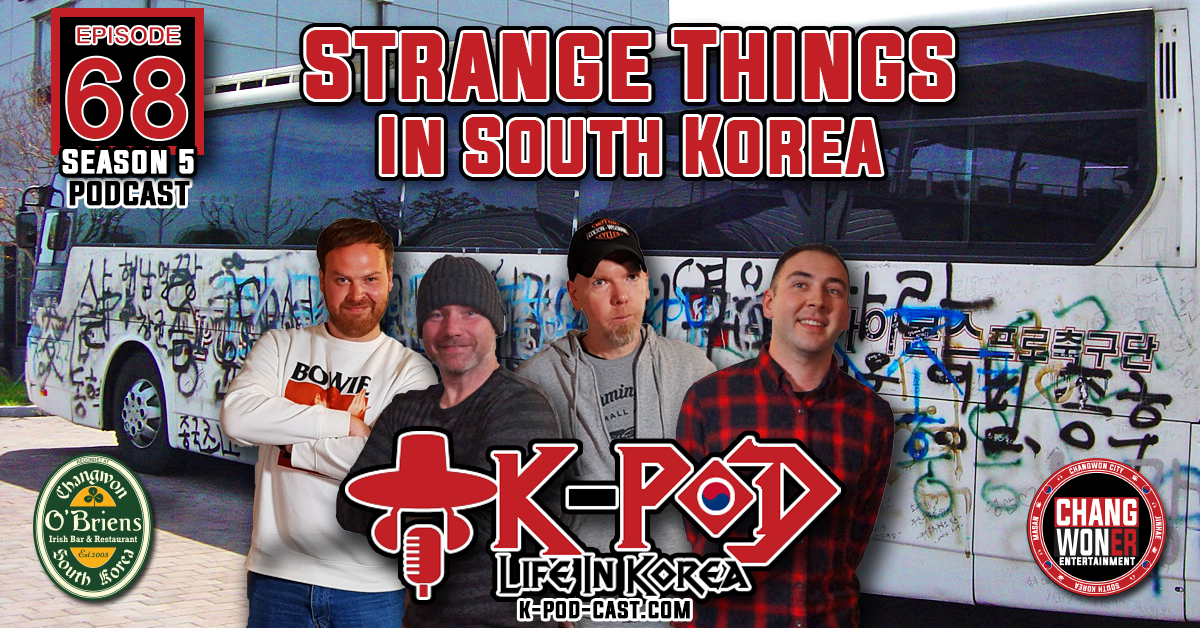 Strange Things in South Korea (Ep 68)
K-PoD: Life In Korea
There are some STRANGE THINGS you can find in South Korea!
There are a lot of things that you can only find in South Korea! Some of them are cool, some bad, somethings we like, some we don't, and some are just plain strange!
Scott, Adam, Marco, and Paul talk about some of the strangest things they have seen over their years in South Korea.  They also talk about the Facebook group 'OINK' (Only In Korea), and some of the more recent events which happened regarding this Facebook group.  They also look at some of the things you would only find here in Korea, and which of these things would work back in their own countries, and which of them wouldn't.
It's all about STRANGE THINGS in Korea on this episode of K-PoD!
Show Notes
01:55

A strange thing Paul has seen in Korea since he arrived here in 2003.
Sleeping people in suits on the streets.

03:04

Adam talks about some of the strange food items that you can find here in South Korea.

06:02

Marco talks about a strange thing here he has seen and drinking in public.

07:15

One of the strangest things Scott found it hard to get adjusted to when he came to Korea.

07:48

The guys talk about 'OinK', Only in Korea. The Facebook group that was recently shutdown.

09:20

Funny t-shirts that you might see in South Korea.

11:45

Some of the reasons we think the 'OinK' Facebook group might have been shut down or suspended.

13:22

Should social media like Facebook have the right to shutdown groups on their social platforms.

16:25

Paul gives a story of someone saying something negative regarding South Korea and that person being deported.

17:50

Scott talks about one of the things that he loves here in South Korea that he hadn't seen anywhere else before.

19:45

Adam and Marco give a couple other things they loves in South Korea.

20:20

Some of the things that we like in South Korea that just wouldn't work back in our home countries.

21:55

Scott sums up all the things that were covered in this episode.


K-PoD: Life In Korea Podcast
HOSTS

Scott

Scott is one of the original hosts of K-PoD (formally The Changwoner Podcast) and also the founder and producer of the show.  He is also the founder of Changwoner Entertainment.  He is from Newfoundland, Canada and has been living in Changwon, South Korea for almost 17 years.

Adam

Adam is one of the hosts of K-PoD.  He started as a host last season in 2018.  Adam is from Ontario, Canada and has lived in Changwon City, South Korea for 8 years.

Marco

Marco is now one of the new hosts of K-PoD.  Marco is from Columbus, OH, United States and has lived in Changwon City, South Korea for almost 3 years.

– https://goo.gl/ZCX9Qe
– https://goo.gl/w2G95c
– https://kpop.global

Paul

Paul is one of the original hosts and founders of K-PoD (The Changwoner).  Paul is originally from England and he currently continues to live in Changwon City where he has lived for the past 16 years.
Listen and Subscribe on….
| | | |
| --- | --- | --- |
| | | |
| | | |
| | | |
| | | |
If you would like to be a guest on K-PoD: Life In Korea, or have any questions for the show or regarding South Korea, or have something you'd like to promote, please contact us at
podcast@changwoner.com
#strangethingsinkorea #onlyinkorea #southkorea #korea #OINK #funnytshirts #strangethings #livinginkorea #korea #korealife #podcast #podcastkorea #kpod #changwoner #lifeinkorea