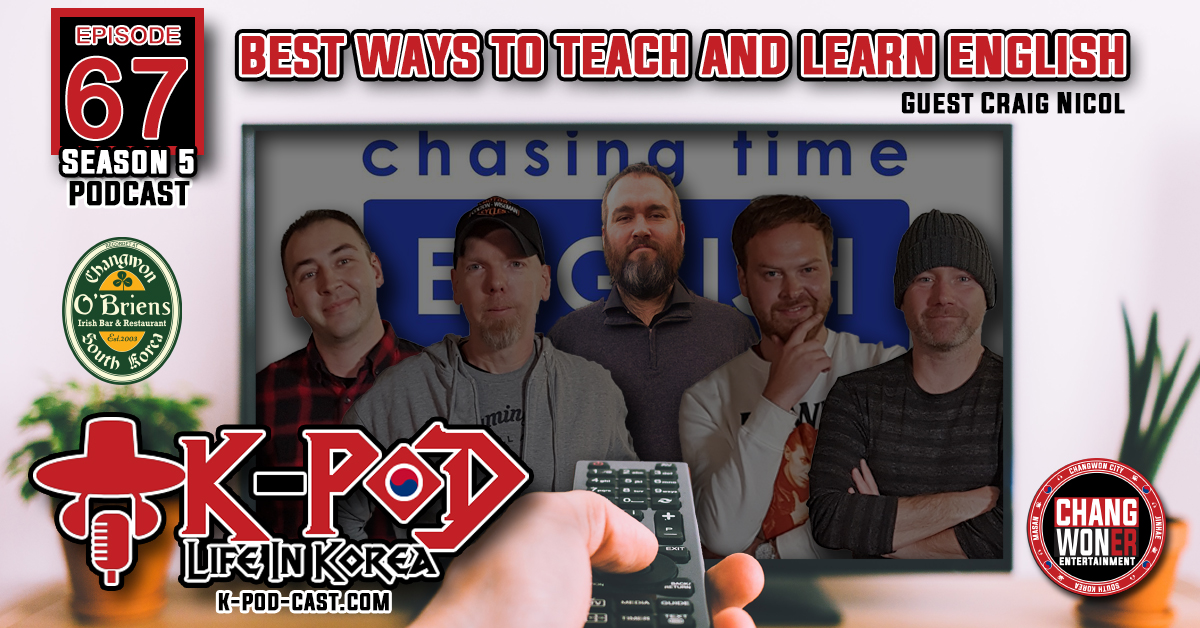 Best Ways To Teach and Learn English (Ep 67)
K-PoD: Life In Korea
How have teaching English techniques changed in South Korea and what direction are they going in?
The ways of teaching and learning English are always changing and evolving.  What are some of the best new ways and what hasn't changed?
What is the future for learning and teaching English in South Korea?
Special guest Craig Nicol stops by to discuss with Scott, Adam, and Marco some of their best and worst methods for teaching English, how teaching English has changed over the years, and how technology, for better or worse, is being applied in classrooms.  Craig also talks about a new program he is involved with call Chasing Time English.
It's all about teaching and learning English on this episode of K-PoD!
Show Notes
01:20

Scott welcomes Craig Nicol to the show and gets some of his background and connection with Changwon City and South Korea.

03:20

Craig goes over where he is originally from and the reasons he first came to South Korea.

04:12

The different degrees and certificates you use to need and do now to get a teaching job in South Korea.

06:18

Some of the things that have changed regarding teaching methods that each of us have noticed over our years of teaching English in Korea.

11:30

Craig talks about teaching in different places and back home in New Zealand and the differences with EFL and ESL.

12:50

Students having cell phones in classes and how each of us deal with the use of cell phone in the class.

14:35

Technology and how it's changed in the classroom and what technology we all use now.

16:40

Craig gets into what he is involved with now and Chasing Time English and what Chasing Time English is all about.

19:00

The reasons why Craig became a part of Chasing Time English and some of the others he works with at Chasing Time English.

21:01

How Chasing Time English comes up with their stories for their learning videos used in their courses.

22:40

Is Chasing Time English for use in the classroom or good for self-study at home?

23:40

Where is Chasing Time English available and how do you get it?

24:55

The different levels available for using Chasing Time English, the age ranges it's geared towards, and what levels would suit you best.

30:37

Chasing Time English feedback, award nominations, and how the program has progressed.

31:50

Craig's role in Chasing Time English and what it is exactly that he does.

32:55

Scott sums up what was covered in this episode, how to get involved with Chasing Time English and thanks guest Craig Nicol for stopping by.

Chasing Time English
K-PoD: Life In Korea Podcast
HOSTS

Scott

Scott is one of the original hosts of K-PoD (formally The Changwoner Podcast) and also the founder and producer of the show.  He is also the founder of Changwoner Entertainment.  He is from Newfoundland, Canada and has been living in Changwon, South Korea for almost 17 years.

Adam

Adam is one of the hosts of K-PoD.  He started as a host last season in 2018.  Adam is from Ontario, Canada and has lived in Changwon City, South Korea for 8 years.

Marco

Marco is now one of the new hosts of K-PoD.  Marco is from Columbus, OH, United States and has lived in Changwon City, South Korea for almost 3 years.

– https://goo.gl/ZCX9Qe
– https://goo.gl/w2G95c
– https://kpop.global

Paul

Paul is one of the original hosts and founders of K-PoD (The Changwoner).  Paul is originally from England and he currently continues to live in Changwon City where he has lived for the past 16 years.
Listen and Subscribe on….
| | | |
| --- | --- | --- |
| | | |
| | | |
| | | |
| | | |
If you would like to be a guest on K-PoD: Life In Korea, or have any questions for the show or regarding South Korea, or have something you'd like to promote, please contact us at
podcast@changwoner.com
#teachingenglish #teachinginkorea #southkorea #koreanenglish #jobsinkorea #teachingmethods #livinginkorea #korea #korealife #classroomideas #chasingtimeenglish #podcast #podcastkorea #kpod #changwoner #lifeinkorea