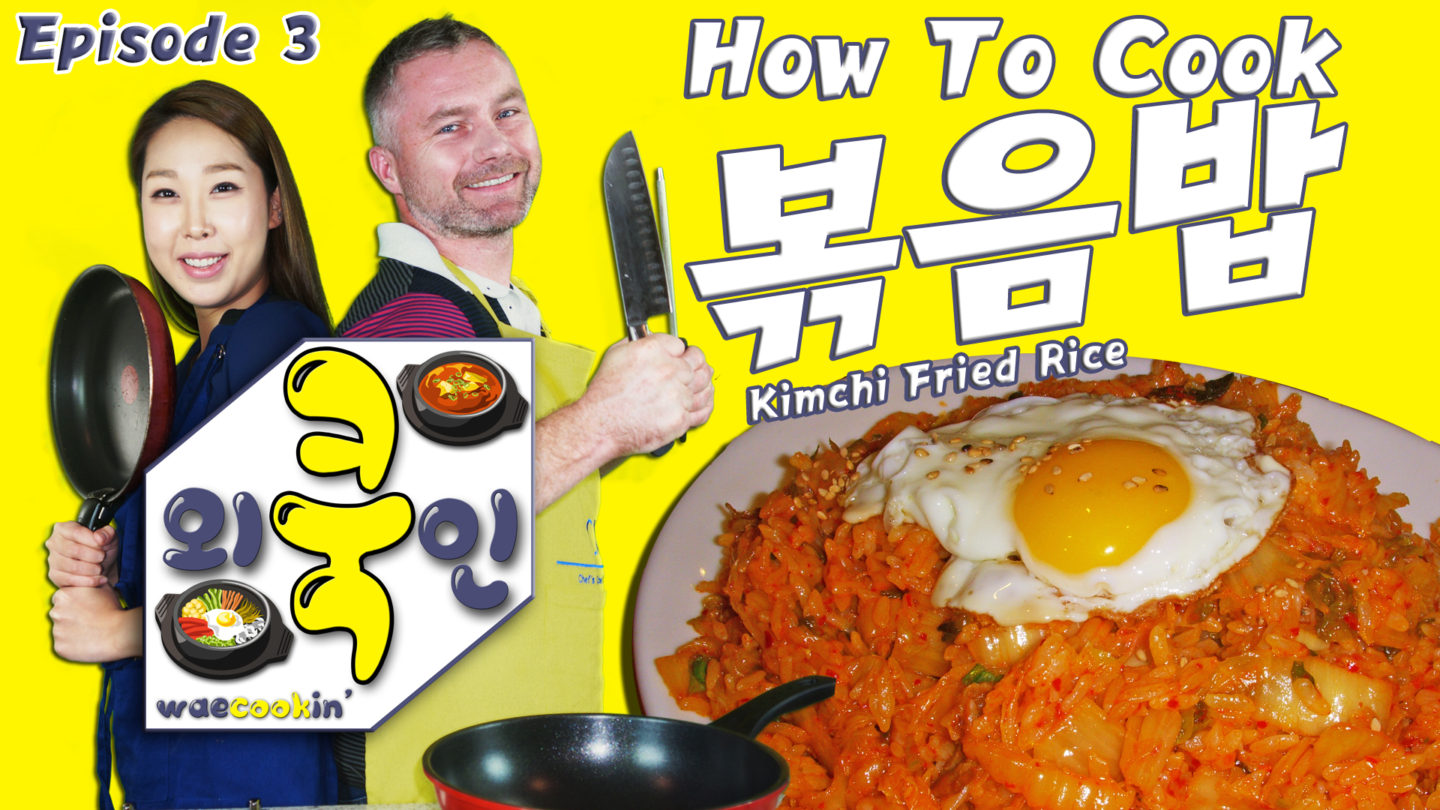 Ep 3:Kimchi Bokkeumbap: How To Cook Korean Food! (Kimchi Fried Rice) 김치 볶음밥
Bokkeumbap translated means fried rice (Bokkeum = fried, bap = rice). Kimchi Bokkeumbap combines kimchi with fried rice and other ingredients and is found in most restaurants in South Korea due to the cheap ingredients and being quick and simple to make. In this episode of Waecookin', Rachel teaches Paul how to make Kimchi Ham Bokkeumbap and Paul comes up with a western twist that could change the game on how Korean's make and eat their Bokkeumbap! What is he going to do? Whose will taste better?
Don't forget to LIKE and SHARE this video, and if you haven't already, please SUBSCRIBE!
0:37 – What is Kimchi Bokkeumbap?
0:56 – Ingredients needed to make Kimchi fried rice.
3:30 – Step 1: Cut the green onions into thin slices.
4:36 – Step 2: Add a splash of oil to the frying pan.
5:14 – Step 3: Use a paper towel to spread the oil in the pan.
5:19 – Step 4: Add the green onions to the frying pan. Stir and cook until you can smell the onions.
8:04 – Step 5: Add the ham to the frying pan.
8:45 – Step 6: Cut and add the kimchi to the frying pan.
10:25 – Step 7: Add the rice to the frying pan.
11:52 – Step 8: Add the soy sauce and red pepper powder to the frying pan.
12:42 – Finished. The first taste test.
13:34 – Chopstick Challenge! Game: Who is going to win?
18:15 – Westernizing the Kimchi bokkeumbap! What will they do?
19:08 – Making an egg moat Kimchi bokkeumbap and competing to see who's will win?
27:42 – The final results and the taste test for both dishes.
30:00 – A guest judge, Marco, joins to make the final judgement on which dish is the best!
32:32 – The final judgement and the winner!
33:45 – End show credits.
34:18 – Final message from Rachel and Paul.
Ingredients for Ham Kimchi Fried Rice
– 1 bowl of kimchi
– 1 bowl of cooked rice (using less water so it's not as sticky)
– 2 or 3 green onions
– 5 table spoons of soy sauce
– 3 table spoons of red pepper powder
– 1 bowl of diced ham (or meat of choice/ or vegetables)
– cooking oil
Extra Ingredients for Egg Moat Kimchi Fried Rice
– 2 eggs
– Grated cheese
Extra Ingredients for Westernized Fried Rice Dish
– 1 bowl of chopped broccoli
– grated cheese
Help out our show by being a contributor and contribute to the subtitles of the show!
https://goo.gl/qQVGqS
Link to this video:

Changwoner Entertainment
Facebook – https://www.facebook.com/changwoner/
Twitter – https://twitter.com/changwoner
Instagram – https://www.instagram.com/changwoner/
Chef's Kitchen, Changwon (Location)
Facebook – https://www.facebook.com/ckchangwon/
Thank you for watching this video!
bokkeumbap | 볶음밥 | kimchi bokkeumbap | 김치 볶음밥 | fried rice | kimchi fried rice | how to cook fried rice | 볶음밥 만드는 법 | how to make kimchi bokkeumbap | 김치 볶음밥 만드는 법 | how to cook Korean food | 한국 음식 요리법 | foreigner learns to cook Korean style | foreigner cooks Korean | 외국인이 한국어를 요리하다 | bokeumbap | casserole | 캐서롤 | kimchi fried rice casserole | 김치 볶음밥 캐서롤 | waecookin | 외쿡인