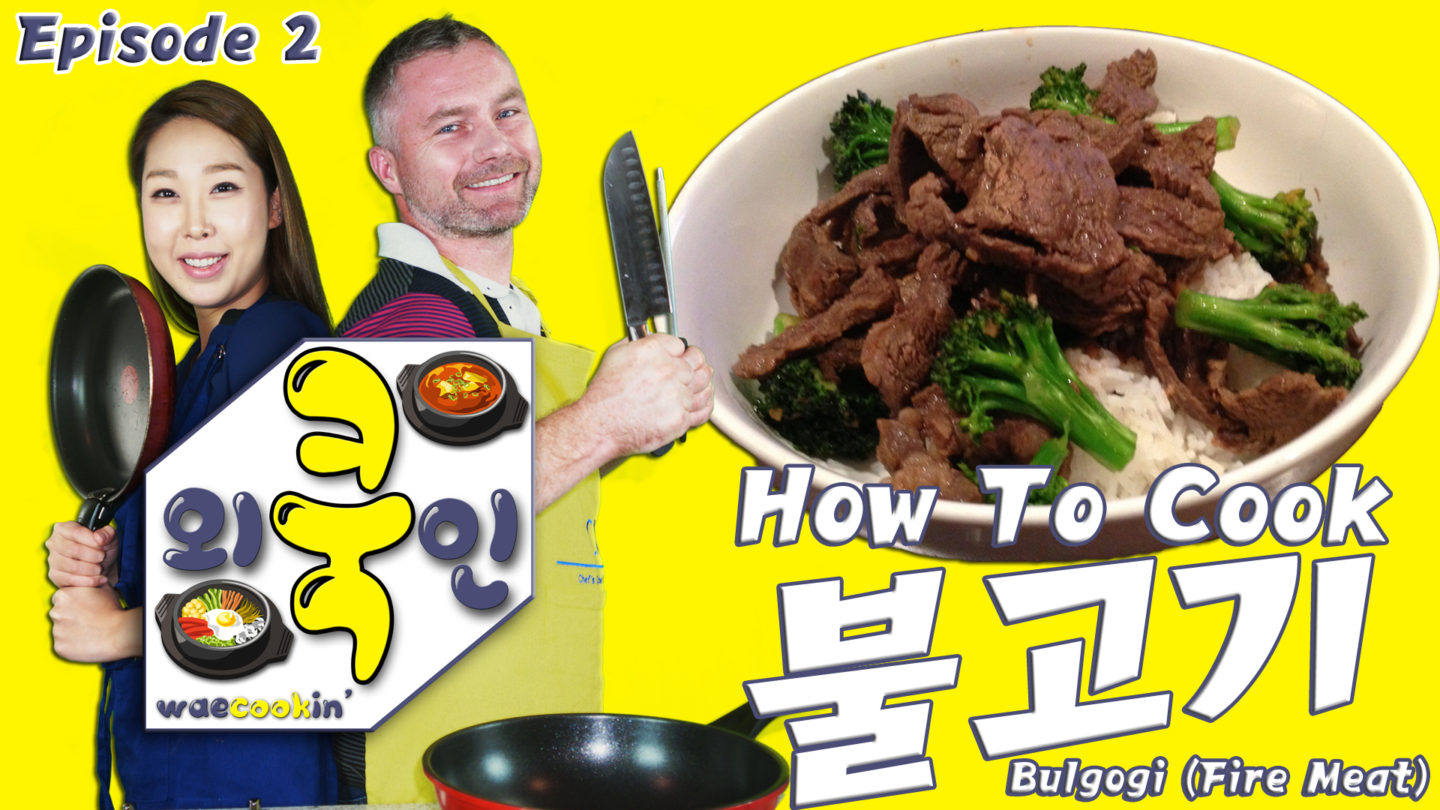 Ep 2: Bulgogi: How To Cook Korean Food
WaeCookin'
Bulgogi (literally meaning fire meat) is a popular Korean style of meat believed to have originated from the Goguryo era.  Bulgogi is prepared by marinating thin slices of beef and grilling them.  In this episode of Waecookin', Rachel teaches Paul how to make Bulgogi and the marinade used for it.  Paul comes up with his twist for Bulgogi to westernize it.  What is he going to do?  Whose will taste better?
0:56 – Ingredients needed to make bulgogi
2:10 – Step 1:  Cut the onions
2:53 – Step 2: Making the marinade sauce for bulgogi
4:57 – Step 3: Sprinkle the brown sugar over the meat and leave for 10 minutes.
5:29 – Step 4: Cut the green onions.
6:41 – Step 5: Add both onions to the marinade sauce and mix.
7:12 – Step 6: Pour the marinade sauce over the meat.
7:33 – Step 7: Massage the sauce and meat together.
8:00 – Paul tells us what British people think about bulgogi, Korean food, and where he is from.
9:44 – Step 8:  Marinate the meat for one hour in the fridge.
10:03 – Step 9:  Add Perilla oil to the marinated meat.
11:14 – Step 10:  Cooking the meat.
11:37 – Paul asks Rachel how Koreans usually eat bulgogi.
12:02 – Paul explains why you can't use self cooking grills in restaurants in the UK.
13:27 – Paul asks about the tradition behind bulgogi.
15:49 – Adding a western twist to the bulgogi.
19:11 – Taste testing the bulgogi and western style dish.
20:31 – Choosing a winner.
21:10 – End show credits.
21:46 – A message from Rachel and Paul.
Don't forget to LIKE and SHARE this video, and if you haven't already, please SUBSCRIBE!
Help out our show by being a contributor and contribute to the subtitles of the show right here->
https://goo.gl/qQVGqS
Link to this video:

Changwoner Entertainment
Facebook – https://www.facebook.com/changwoner/
Twitter – https://twitter.com/changwoner
Instagram – https://www.instagram.com/changwoner/
Chef's Kitchen, Changwon (Location)
Facebook – https://www.facebook.com/ckchangwon/
Thank you for watching this video!
How to make Bulgogi | How to cook Bulgogi | How to cook Korean food | Bulgogi | bulgogi | fire meat | Korean fire meat | cooking bulgogi | cooking korean food | learn to make bulgogi | Korean food | Korean cooking | Korean cooking show | foreigner learns to cook Korean food | Korean style cooking | Korean style meat | cooking show | fusion food | Korea | Korean | mukbang | waecookin |불고기 만드는 법 |불고기 요리하는 법 | 불고기 | 한국 요리 | 한국 요리 쇼 | 한국 음식 |  외쿡인 | 영국 남자 | 영국 남성 | 영국 사람 | 영국 사람 요리 한국 음식입니다 |
#koreanfood #koreancooking #cookingshow #howtocook #howtocookkoreanfood #waecookin  #bulgogi #불고기