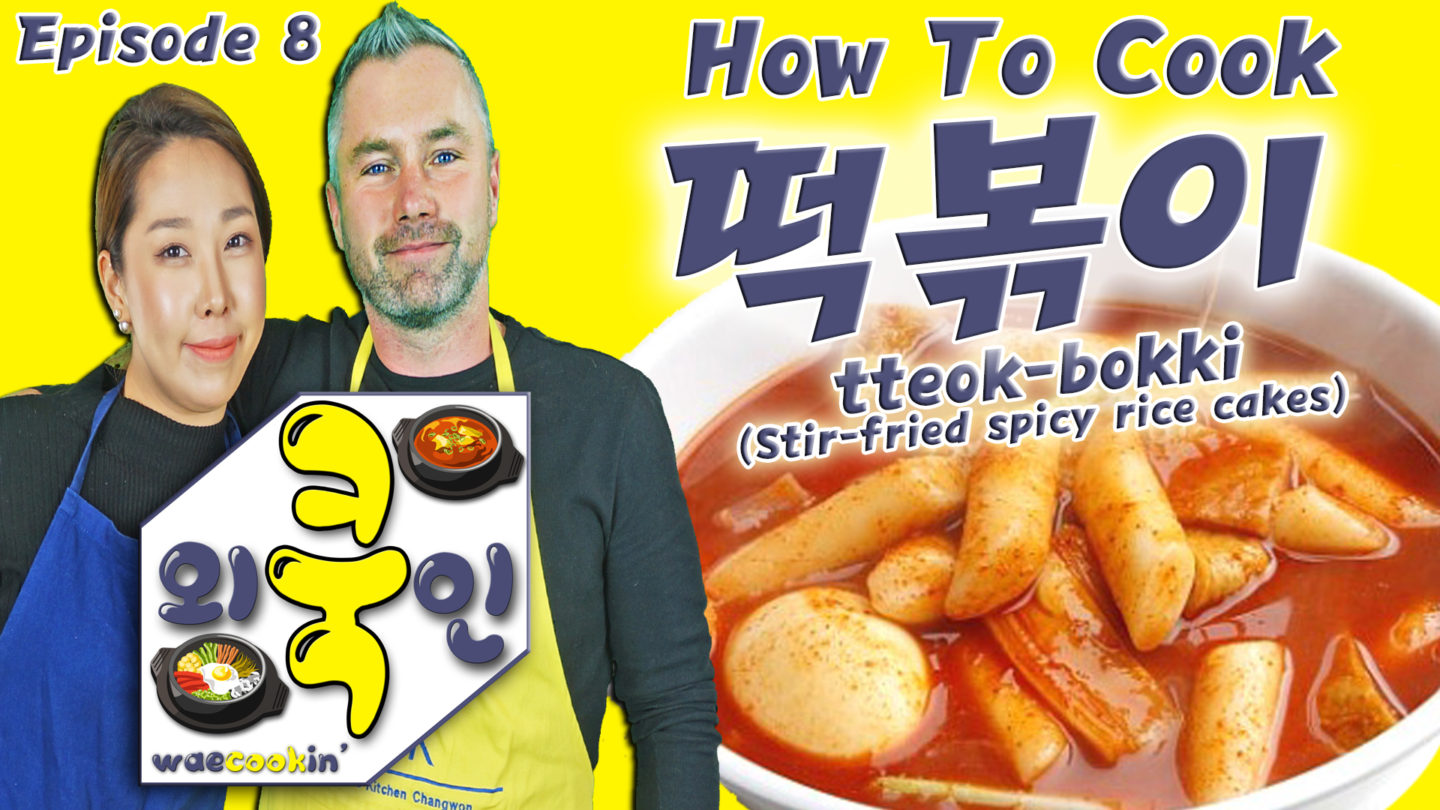 Tteok-bokki (떡볶이): How To Cook Korean Food (Stir-fried Spicy Rice Cakes)
Tteok-bokki is spicy and sweet stir-fried rice cakes that is a common Korean street food and very popular with kids and everyone in South Korea. In this episode of Waecookin'| Rachel teaches Paul how to cook Tteok-bokki and Paul tries to put his western twist on the dish. What is he going to do? Whose will taste better?
Special guest judges Lee and Won from Korea join this episode to determine which one taste better for the final episode of season 1 of WaeCookin'!
Recipe/directions:– https://goo.gl/9L6md7
Our Website:– http://waecookin.com/
Our Facebook Page:– https://www.facebook.com/waecookin/
Our Facebook Group:– https://www.facebook.com/groups/waecookin/
You can ask questions directly to Rachel or Paul or make any comments or suggestions in our FB Group.
What would you like to see Rachel teach Paul how to cook next?
Let us know in the comments below!
Don't forget to LIKE and SHARE this video| and if you haven't already| please SUBSCRIBE!
Show Notes
0:33 – What is Tteok-bokki?
1:01 – Ingredients for cooking Tteok-bokki.
2:02 – Step 1: Add 200 ml of water to the frying pan and heat.
2:40 – Step 2: Add 2 table spoons of chili pepper paste and mix.
3:10 – Step 3: Add 2 level table spoons of red chili pepper powder and mix.
3:26 – Step 4: Add 2 spoons of soy sauce and mix .
3:42 – Step 5: Add 4 table spoons of brown sugar and mix.
4:22 – Stop 6:Cut the fish cake into even slices.
5:42 – Step 7: Add the rice cake to the frying pan.
5:59 – Step 8: Cut the green onions.
6:10 – Step 9: Add 1 table spoon of crushed garlic and stir.
6:57 – Paul talks about what street food he likes and has tried.
8:10 – Step 10: Add the fish cake to the frying pan and stir.
9:11 – Step 11: Add the green onions| stir and finished.
10:13 – Rachel and Paul taste test the Tteok-bokki.
10:31 – Paul shows how he will add his western twist to the Tteok-bokki.
12:57 – Paul and Rachel taste test Paul's fusion dish.
13:58 – Guest judges Won and Lee join to taste and judge the dishes.
15:41 – The judges make her final judgement and picks the winner.
16:40 – End show credits.
17:02 – Final message from Rachel and Paul.
Ingredients for Tteok-bokki (떡볶이)
– 5 slices of fish cake
– 4 green onions
– cylinder rice cake
– soy sauce
– red chili pepper powder
– chili pepper paste
– sesame oil
– crushed garlic
– brown sugar
– salt
Help out our show by being a contributor and contribute to the subtitles of the show!
https://goo.gl/qQVGqS
Link to this video: https://www.youtube.com/watch?v=3Oxt2866ay0
Changwoner Entertainment
Facebook – https://www.facebook.com/changwoner/
Twitter – https://twitter.com/changwoner
Instagram – https://www.instagram.com/changwoner/
Chef's Kitchen| Changwon (Location)
Facebook – https://www.facebook.com/ckchangwon/
Thank you for watching this video!
Tteok-bokki | 떡볶이 | Tteokbokki | Ddeokbokki | Dokbokgi | how to cook Tteok-bokki | 떡볶이요리하는 법 | how to make tteokbokki | 떡볶이는 법 | how to cook Korean food | 한국 음식 요리법 | 고추가루 | Korean street food | 포장마차 | Pojangmacha | Street Food | 과자 | Korean snack food | foreigner learns to cook Korean style | foreigner cooks Korean | 외국인이 한국어를 요리하다 | spicy | 매운 | spicy food | 매운 음식 | waecookin | 외쿡인