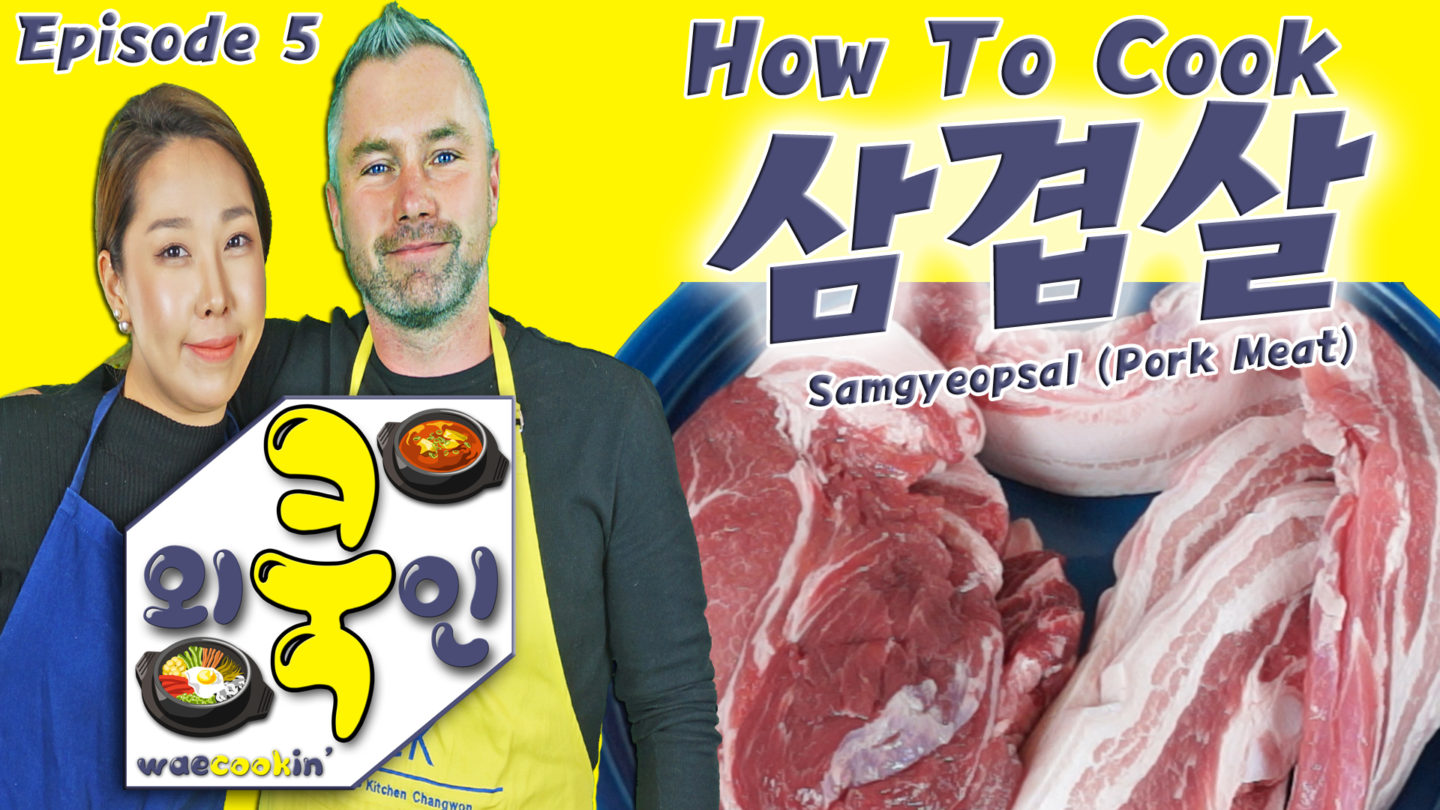 Samgyeopsal (삼겹살 ): How To Cook Korean Food (Pork Belly)
Samgyeopsal can be found everywhere in South Korea. It is the most common restaurant and food that can be found here. Samgyeopsal means "three (삼) layered (겹) fat (살)" and Rachel and Paul will include some popular ingredients served with Samgyeopsal| as well as include some Moksal (neck meat) which is less fatty. In this episode of Waecookin', Rachel teaches Paul how to cook Samgyeopsal and everything that goes with it, and Paul puts his western twist on the dish to come up with his own Mexican style dish.
What is he going to do? Whose will taste better?
Recipe/directions:– https://goo.gl/9hkVep
Our Website:– http://waecookin.com/
Our Facebook Page:– https://www.facebook.com/waecookin/
Our Facebook Group:– https://www.facebook.com/groups/waecookin/
You can ask questions directly to Rachel or Paul or make any comments or suggestions in our FB Group.
한국인들이 많이 즐겨먹는 삼겹살 그리고 목살!
이번 에피소드의 외쿡인 에서는요, 레이첼이 폴에게 삼겹살 굽는 방법과 먹는 방법을 알려주는데요, 폴은 또 자신만의 방법으로 삼겹살을 요리해본다고 해요! 폴이 무엇을 할까요? 과연 어느쪽의 삼겹살이 더 맛있을까요?
What would you like to see Rachel teach Paul how to cook next?
Let us know in the comments below!
Don't forget to LIKE and SHARE this video| and if you haven't already| please SUBSCRIBE!
Show Notes
0:48 – Ingredients for cooking samgyeopsal.
2:50 – Step 1: Pre-heating the cast iron pans.
4:26 – Step 2: Add 2 strips of samgyeopsal to the frying pan.
5:14 – Step 3: Add a piece of moksal (neck meat) to the frying pan.
6:23 – Rachel and Paul talk about their favorite ways to cook meat.
7:00 – Step 4: Cut the garlic into slices.
8:06 – Step 5: Cut 2 slices of potato.
8:44 – Paul talks about the restaurant culture in South Korea.
10:29 – Step 6: Cutting the meat using scissors.
11:38 – Step 7: Adding the extra ingredients to the frying pan.
13:51 – Rachel and Paul talk about the cooking experience and social style of cooking meat in restaurants in South Korea.
14:29 – Paul and Rachel talk about their favorite drinking games.
16:11 – TITANIC GAME: Rachel and Paul play the Titanic drinking game.
20:06 – Step 8: Cutting up everything in frying pan after being cooked.
21:43 – Testing the meat for the first time.
22:25 – Paul tries the best mushroom he has ever had.
23:36 – Paul explains what he will do to westernize the samgyeopsal.
24:17 – Rachel gives the steps of putting together her samgyeopsal wrap and the traditional way to eat it.
24:54 – Testing the traditional samgyeopsal.
25:18 – Paul gives his steps to add his western twist to the dish.
27:00 – Testing the western twist dish.
27:47 – Guest judge Phillip Wayne Stanley from K-PoD: Life In Korea joins the set.
30:04 – Guest judge tries the traditional samgyeopsal.
31:09 – Guest judge tries the western twist version of samgyeopsal.
33:04 – FINAL JUDGEMENT: Guest judge decides which dish is best.
34:21 – End show credits.
34:49 – Final message from Rachel and Paul.
Ingredients for Samgyeopsal (two servings)
– 4 strips of pork belly
– Enoki mushrooms
– 8 garlic
– 1 bowl of kimchi
– 1 potato
– bean paste plus oil/salt mixture
– lettuce and sesame leaves
– 2 pieces of pork neck meat (optional)
– 4 king oyster mushrooms
Ingredients for Taco Samgyeop
– 6 tortilla shells
– plus ingredients above
Titanic Drinking Game
– beer of choice
– beer glass/ shot glass
– soju of choice
Help out our show by being a contributor and contribute to the subtitles of the show!
https://goo.gl/qQVGqS
Link to this video:
https://www.youtube.com/watch?v=FjQSZGtuInA
Changwoner Entertainment
Facebook – https://www.facebook.com/changwoner/
Twitter – https://twitter.com/changwoner
Instagram – https://www.instagram.com/changwoner/
Chef's Kitchen, Changwon (Location)
Facebook – https://www.facebook.com/ckchangwon/
Thank you for watching this video!
Samgyeopsal | 삼겹살 | moksal | 목살 | korean meat | 고기 | how to cook samgyeopsal |삼겹살 요리하는 법 | how to make samgyeopsal | 삼겹살는 법 | how to cook Korean food | 한국 음식 요리법 | Titanic drinking game | 타이타닉 마시는 게임| titanic game | 타이타닉 게임| foreigner learns to cook Korean style | foreigner cooks Korean | 외국인이 한국어를 요리하다 | tacos | 타코 | mexican food | 멕시코 음식 | waecookin | 외쿡인 |
#Samgyeopsal  #삼겹살  #waecookin  #외쿡인