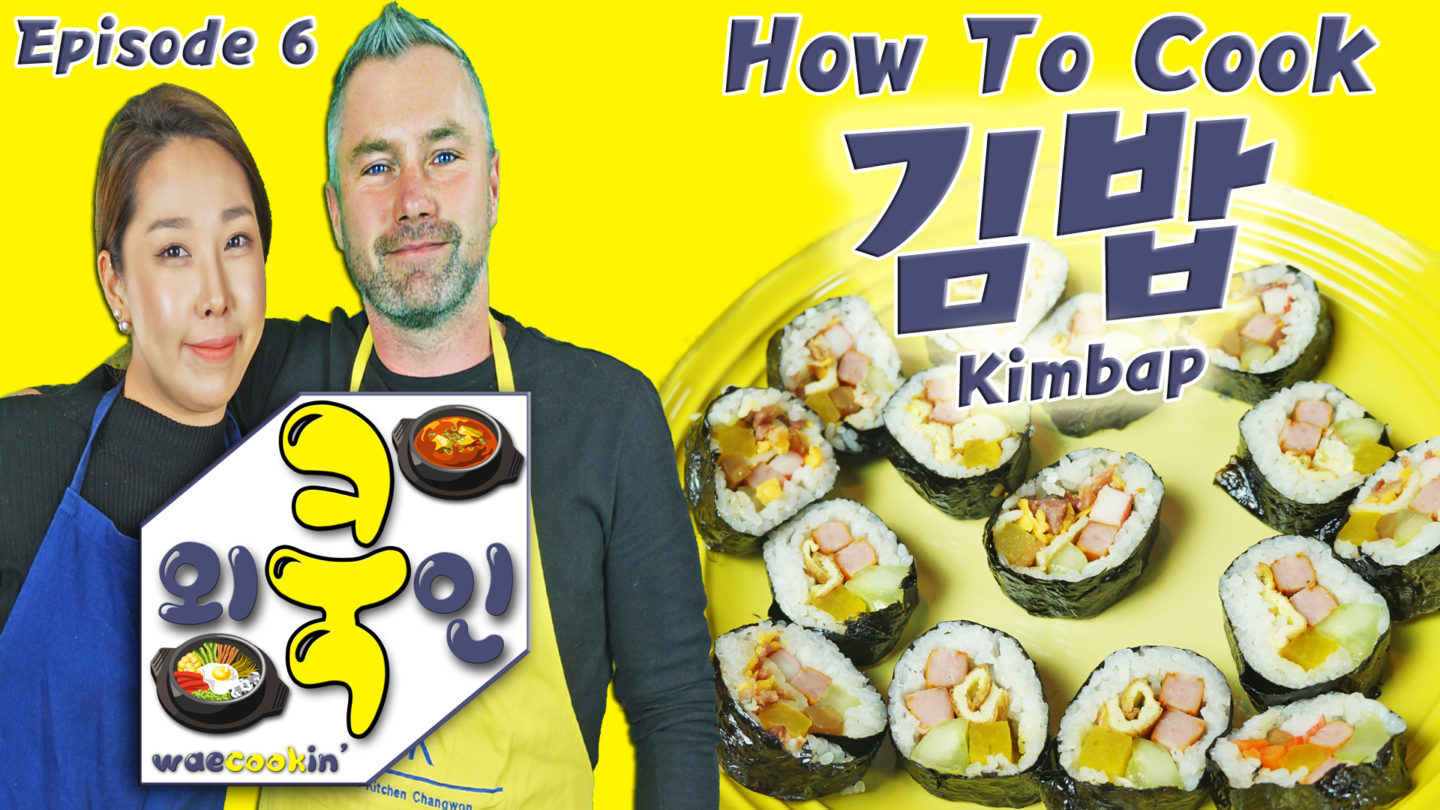 Kimbap (김밥): How To Cook Korean Food
Kimbap is Korea's rice seaweed rolls and can be found almost anywhere in South Korea. Kimbap is common for lunch and a snack and a lot of parents prepare it for their children for school fieldtrips. There are many different kinds of kimbap and different ingredients you can put in them. In this episode of Waecookin', Rachel teaches Paul how to make homemade style kimbap and Paul will attempt to put his western twist on the dish that could turn into a kimbap bomb!
What is he going to do? Whose will taste better?
Recipe/directions:– https://goo.gl/1kMdra
Our Website:– http://waecookin.com/
Our Facebook Page:– https://www.facebook.com/waecookin/
Our Facebook Group:– https://www.facebook.com/groups/waecookin/
You can ask questions directly to Rachel or Paul or make any comments or suggestions in our FB Group.
한국인들과 외국인들이 모두 즐겨먹는 김밥! 소풍갈때 먹었던 그 김밥이죠? 김밥에는 많은 종류가 있는데요, 요번 외쿡인 에피소드 에서는 레이첼이 폴에게 집김밥 만드는 법을 가르쳐주었습니다. 폴은 한국음식 김밥을 웨스터나이즈 시켜서 김밥 폭탄(?) 을 만드는데요! 과연 어떻게 했을까요? 어떤 김밥이 더 맛있을까요? 기대해주세요!
What would you like to see Rachel teach Paul how to cook next?
Let us know in the comments below!
Don't forget to LIKE and SHARE this video| and if you haven't already| please SUBSCRIBE!
Show Notes
0:43 – What is kimbap?
1:52 – Ingredients to make kimbap.
4:12 – Step 1: Mix and cook 2-3 eggs (scrambled egg style).
9:57 – Step 2: Slowly fold the egg in the frying pan.
12:09 – Step 3: Slowly fry each of the vegetables used in making kimbap to soften them up.
13:44 – Step 4: Place the vegetables and ingredients back on each plate after frying.
14:07 – Step 5: Cut the egg into 4 long strips.
14:51 – Step 6: Place a seaweed sheet onto the rolling mat. (Shiny side down).
15:14 – Step 7: Brush on a thin layer of sesame oil to the top part of the seaweed.
15:44 – Step 8: Add rice to the seaweed (about 2 1/3s) and speed out.
17:03 – Step 9: Add a strip of each ingredient on top of the rice.
19:02 – Step 10: Rolling the Kimbap. Slowly begin to roll the ingredients in the mat.
19:52 – Step 11: Brush the rolled kimbap with the sesame oil.
22:28 – Rachel and Paul attempt making another kimbap after Paul's failure.
25:03 – Paul tries to westernize his kimbap.
41:37 – Taste test of the traditional kimbap.
42:31 – Taste test of Paul's westernized kimbap.
43:46 – Rachel and Paul decide who's dish is best.
45:23 – End show credits.
45:37 – Final message from Rachel and Paul.
Ingredients for Kimbap
– 맛살 Crab meat
-햄 Ham
-오이 Cucumber
-당근 Carrots
-단무지 Yellow Radish
-계란 Eggs
-우엉 Burdock Root
-밥 Rice
-소금/참기름 Salt/ Sesame Oil
-김 Seaweed
Help out our show by being a contributor and contribute to the subtitles of the show!
https://goo.gl/qQVGqS
Link to this video:
https://www.youtube.com/watch?v=nBNAtC_8AJY&t=25s
Changwoner Entertainment
Facebook – https://www.facebook.com/changwoner/
Twitter – https://twitter.com/changwoner
Instagram – https://www.instagram.com/changwoner/
Chef's Kitchen, Changwon (Location)
Facebook – https://www.facebook.com/ckchangwon/
Thank you for watching this video!
Kimbap | 김밥 | Crab meat |맛살 | Burdock Root | 우엉 | how to cook kimbap | 김밥요리하는 법 | how to make kimbap | 김밥는 법 | how to cook Korean food | 한국 음식 요리법 | Seaweed | 김 | foreigner learns to cook Korean style | foreigner cooks Korean | 외국인이 한국어를 요리하다 | waecookin | 외쿡인 | Englishman cooks Korean | 영국 신사 요리사
#Kimbap #김밥 #koreanfood #cooking #cook #food #tasty #howto #howtocook