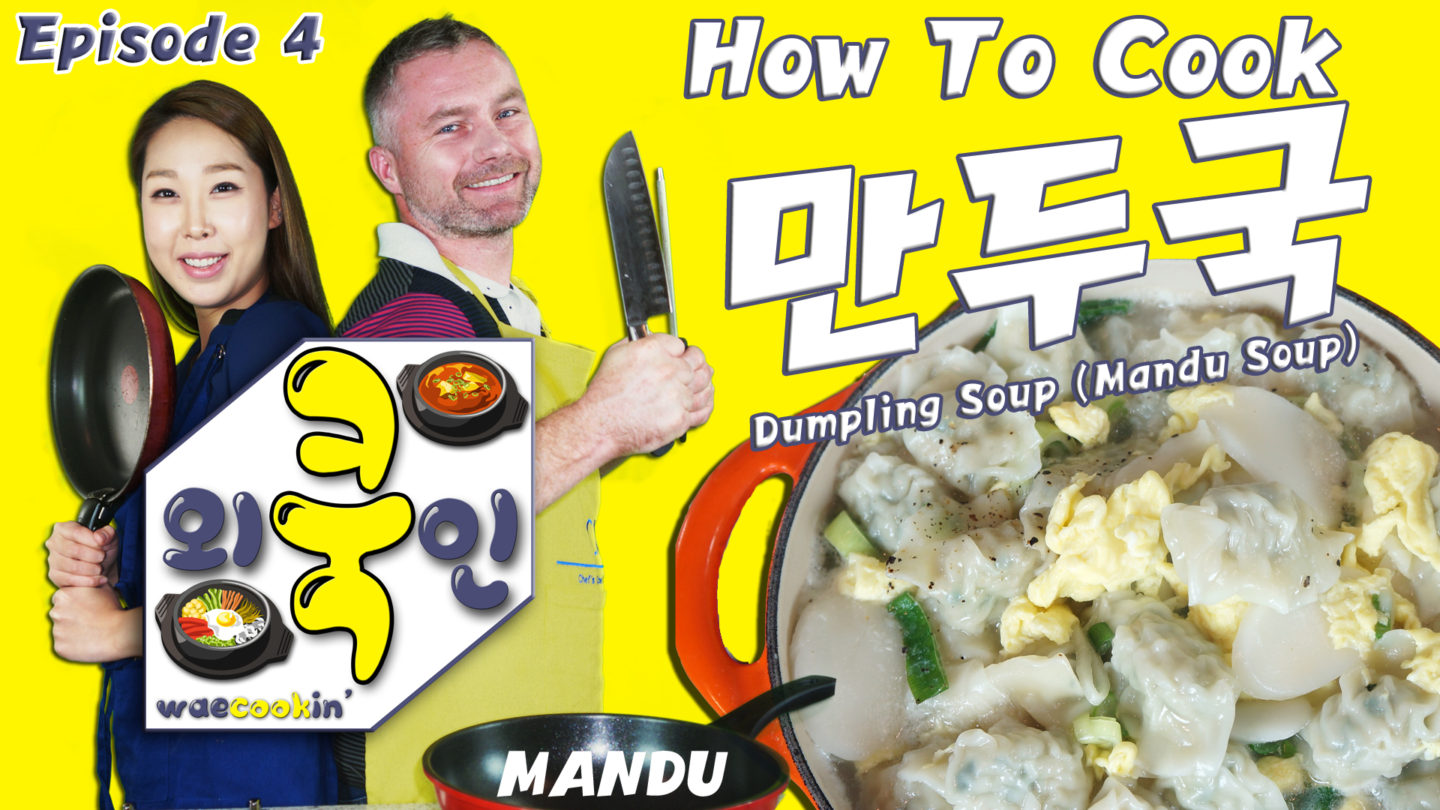 Ep 4: Mandu Soup (만두국 )
What would you like to see Rachel teach Paul how to cook next?
Let us know in the comments below!
Mandu is the Korean word for dumpling and mandu soup is a popular soup in South Korea. In this episode of Waecookin', Rachel teaches Paul how to make Duk Mandu Guk (Rice cake dumpling soup) and Paul puts his western twist on the mandu to come up with his own dish. What is he going to do? Whose will taste better?
Don't forget to LIKE and SHARE this video, and if you haven't already, please SUBSCRIBE!
0:37 – What is mandu?
1:00 – Ingredients needed to make mandu soup.
3:14 – Step 1: Bring the broth to a boil.
3:34 – Step 2: Cut the roots off the Enoki mushrooms.
4:00 – Step 3: Add the dumplings to the boiling broth.
4:31 – Step 4: Add the sliced rice cake to the broth.
5:13 – Step 5: Mix and add the eggs to the pot.
6:10 – Step 6: Add the green onions to the pot.
6:38 – Step 7: Add 1/2 a table spoon of Perilla oil.
6:59 – Step 8: Add salt and pepper to the pot.
7:41 – Step 9: Add the Enoki mushrooms.
8:10 – Finished making the mandu soup.
8:25 – Westernizing the mandu! What will Paul do?
10:03 – First taste of the mandu soup.
12:48 – What would you like to see us cook next?
13:18 – First taste of Paul's twist on mandu.
13:47 – The final judgement and who's dish will win?
14:44 – End show credits.
15:05 – Final message from Rachel and Paul.
Ingredients for mandu soup.
– 1 bag of frozen mandu (dumplings)
– Enoki mushrooms
– 2 or 3 cut green onions
– 2 eggs
– 2 cups of beef bone broth
– 1/2 cup of sliced rice cake (optional)
– 1/2 spoon of Perilla cooking oil
– salt and pepper
Help out our show by being a contributor and contribute to the subtitles of the show!
https://goo.gl/qQVGqS
Link to this video:

Changwoner Entertainment
Facebook – https://www.facebook.com/changwoner/
Twitter – https://twitter.com/changwoner
Instagram – https://www.instagram.com/changwoner/
Chef's Kitchen, Changwon (Location)
Facebook – https://www.facebook.com/ckchangwon/
Thank you for watching this video!
Mandu soup | 만두국 | mandu | 만두| dumpling soup | 떡 만두 수프 | how to cook mandu soup | 만두국 요리하는 법 | how to make dumpling soup | 만두국만드는 법 | how to cook Korean food | 한국 음식 요리법 | foreigner learns to cook Korean style | foreigner cooks Korean | 외국인이 한국어를 요리하다 | ravioli | mandu ravioli | 라비올리 | 만두 라비올리 | waecookin | 외쿡인 | Englishman cooks Korean food