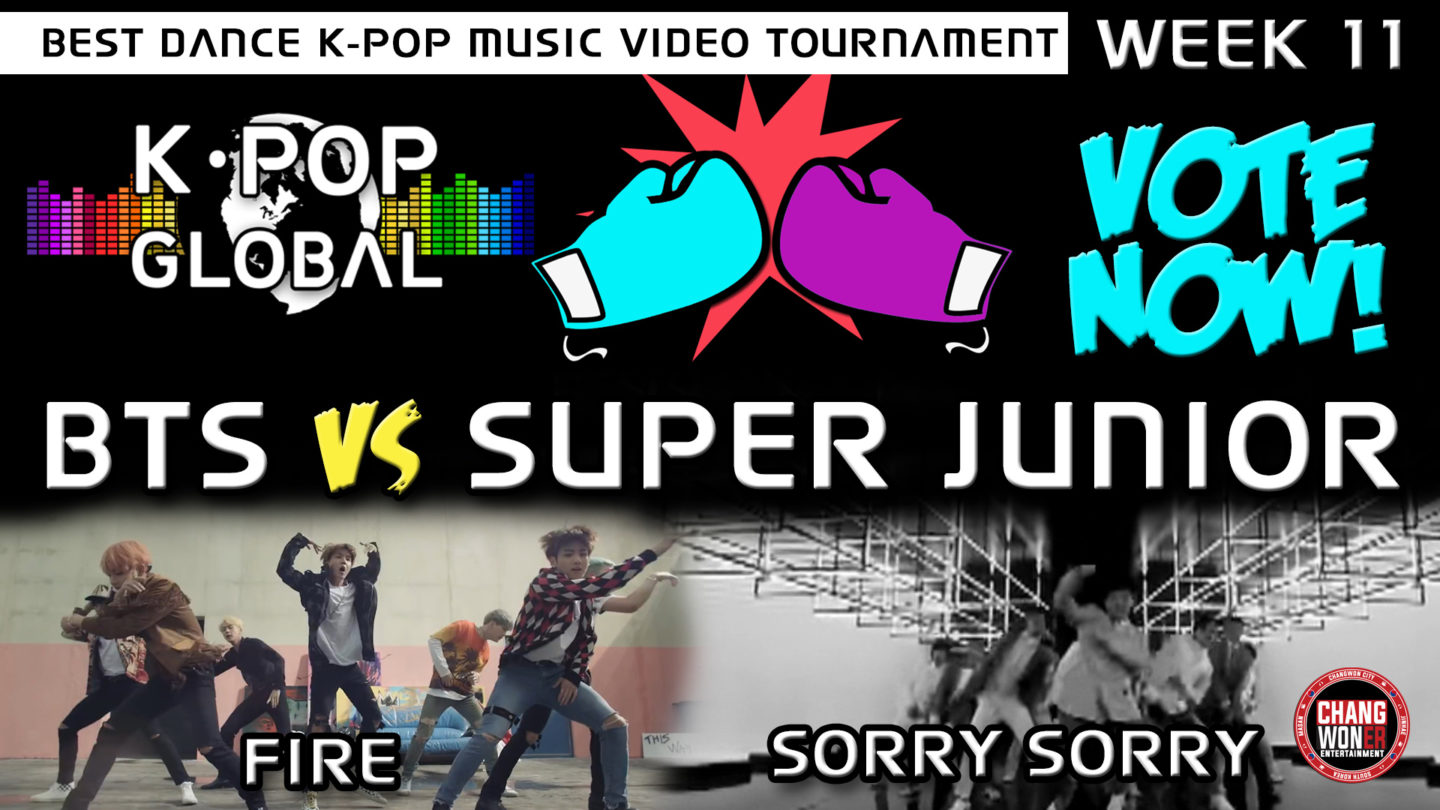 BTS (FIRE) vs SUPER JUNIOR (SORRY, SORRY)
K-Pop Global's Best Dance K-Pop Music Video Tournament
BTS (방탄소년단) 'FIRE (불타오르네)'  vs SUPER JUNIOR 슈퍼주니어 '쏘리 쏘리 (SORRY, SORRY)'
Welcome to K-Pop Global's Best Dance K-Pop Music Video Tournament
Congratulations to last week's winner
EXO (Growl) with 78% of the vote and moving on to round 3.
It's now your turn to VOTE between these two iconic K-Pop dance videos.
Round 2, Week 11
BTS (FIRE) vs SUPER JUNIOR (Sorry, Sorry)
Which do you think is the better dance music video?
You can VOTE here by clicking on the 'i' icon in the top right hand of the video.
Or vote here on on our Facebook page:
You have 6 days to vote.  Voting ends next Sunday by 2pm Korean time.
Check out the original music videos in this week's match up to help you make your decision, and remember to return here to vote!
BTS – Fire — https://www.youtube.com/watch?v=2cTZTqBU1Rc
VS
Super Junior – Sorry, Sorry — https://www.youtube.com/watch?v=AAWqnA8PdcY
We hope you enjoy our tournament!  Thank you for voting and watching!
It's K-Pop Global's Best Dance K-Pop Music Video Tournament!
Remember to SUBSCRIBE HERE — https://goo.gl/SXGHrf
최고의 케이팝뮤직비디오 토너먼트에 오신것을 환영합니다.
6일간의 투표가 이뤄집니다. 한국시간으로 다음주 일요일낮 두시에 투표가 마감됩니다.
오른쪽 상단의 아이콘을 클릭하셔서 투표하실수 있습니다.
시청해 주셔서 감사합니다.
어떤 뮤직비디오가 최고의 안무라고 생각하세요?
이 행사에 투표하실수 있는곳에 구독하시고 채널을 맞춰주세요
https://goo.gl/SXGHrf
K-Pop Global
Website  —  http://kpop.global
Facebook — https://goo.gl/mHWcB5
Instagram —  https://www.instagram.com/k_pop_global/
Twitter —  https://twitter.com/k_pop_global/
Hosts
Marco Baille on FB — https://goo.gl/dY85qZ
Jenny 'Jae Yun Lee' on FB — https://goo.gl/mUot9s
Saber Lane on FB — https://www.facebook.com/saber.lane
BTS | 방탄소년단 | Super Junior | 슈퍼주니어 | BTS FIRE | 방탄소년단 불타오르네 | BTS 불타오르네 | SUPER JUNIOR SORRY SORRY | 슈퍼주니어 쏘리 쏘리 | SUPER JUNIOR 쏘리 쏘리 | BTS VS SUPER JUNIOR | BTS FIRE VS SUPER JUNIOR SORRY SORRY |  ibighit | popular kpop | K-Pop Dance Music Video Tournament  | Best Dance K-Pop Music Video Tournament  | Best Dance K-Pop Music Video| Kpop Tournament | k-pop tournament | kpop dance tournament  | kpop dance  |  K-Pop Global  |  K-Pop Global Tournament  | Dance Music Video  | K-Pop Dance MV  | Best K-Pop MV
#bts #방탄소년단 #superjunior  #슈퍼주니어 #btsfire #superjuniorsorrysorry #불타오르네 #쏘리쏘리 #btsvssuperjunior #kpop #kpopdancetournament #kpopglobal #popularkpop #kpoptournament #dancetournament #kpopglobal