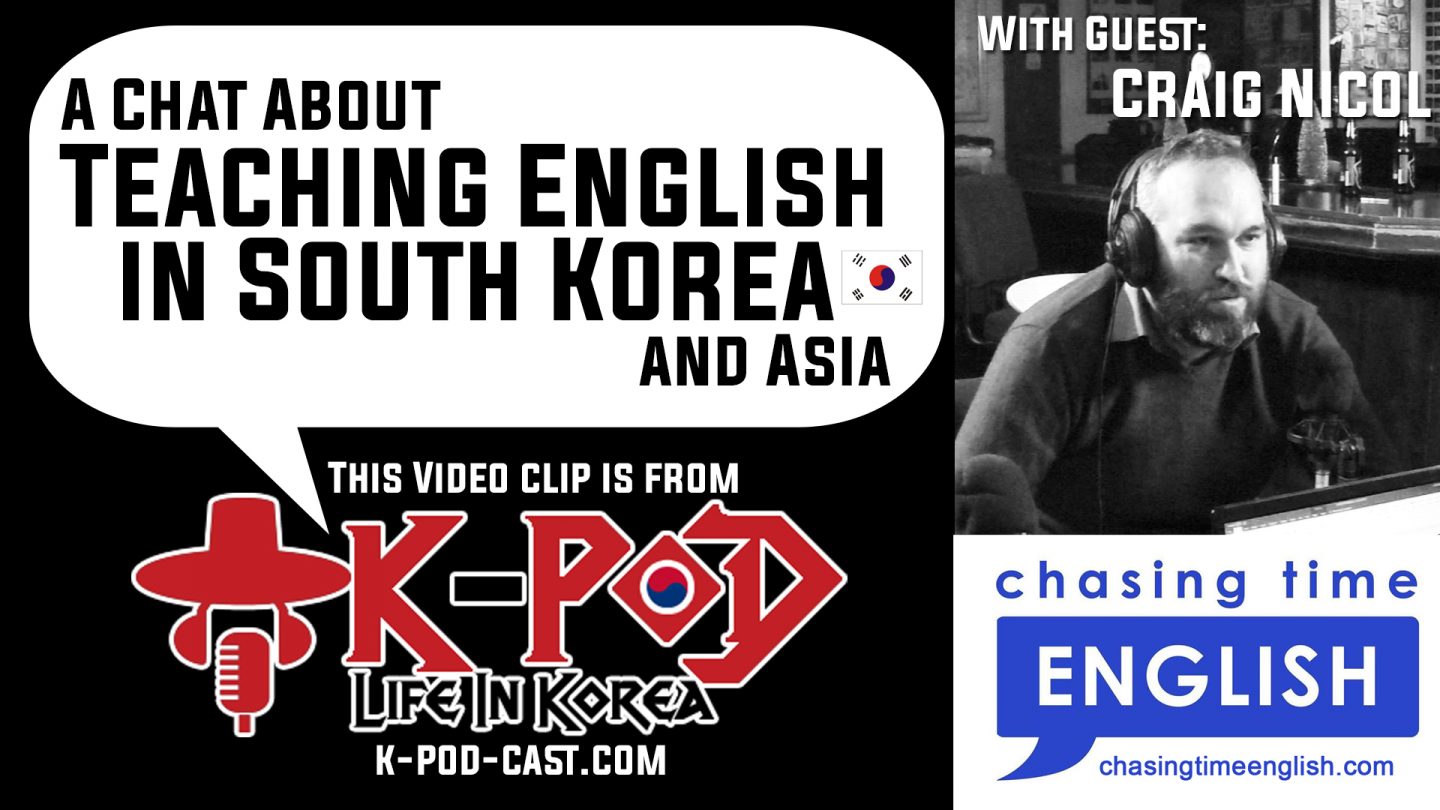 A Chat About Teaching English in Korea and Asia
K-PoD: Life In Korea
Teaching English in Korea and in Asia can have its difficulties. Smart phones (cell phones) and students using them in class and where we stand as teachers with regards of their use. Controlling our classroom and how to do it! Teaching in Korea compared to teaching in China. Classroom sizes and more!
This is a clip from K-PoD: Life in Korea. The podcast that brings you some of the lives of people living and working in South Korea and the people doing just that!
If you would like to listen to the full podcast of this episode please visit
https://k-pod-cast.com for more!
Of click here  http://bit.ly/2IKuF0M
Subscribe for more: https://goo.gl/SXGHrf
Share this video with a friend: https://youtu.be/hOt99KLWl70
Chasing Time English youTube Channel: http://bit.ly/2MOpySl
Fortune: Episode 1 BLUE Video: http://bit.ly/2Fbnz4d
Watch next – https://goo.gl/Pk8Wqa
Recommended Playlist – http://bit.ly/2KgEjeA
Let's connect:
Facebook (/changwoner) – http://bit.ly/2XRDmga
Instagram (@changwoner) – http://bit.ly/2XauTaI
Twitter (@changwoner) – http://bit.ly/2IPSBzY
Clips Used in this Video:
Demo EFL Class – https://youtu.be/UIRdm3Q5HeE
Mr James – ESL Teaching in China! – https://youtu.be/9YeS2muDKsg
How do you feel today? EFL Classroom Video ingilizcesinifi.org – https://youtu.be/heHSTFmY7fs
Teaching a Live English Class in a Chinese Public School – https://youtu.be/VdTHsvoxOk0
#teachinginkorea #teachinginchina #teachkorea #teachchina #teachingenglish #teachinsouthkorea #cellphonesinclass #smartphonesinclass #smartphones #cellphones #teachingmethods #controllingyourclass #englishteaching #koreaexpats #lifeinkorea
If you have any questions regarding teaching English in South Korea or regarding living in South Korea, please feel free to contact us on messenger at http://bit.ly/2XRDmga
We'll be happy to help you out in any way we can!